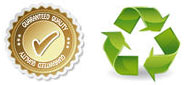 Our company works with high quality materials and has developed recycling technology that allows minimum waste materials.
Our modern equipment, high technology and team of professionals guarantee the quality of our production in short terms.
Many big companies have put their trust in our professional skills : OMV, Happy Bar & Grill, Red Bull, DHL, Aquafresh, Office Express, Kamenitza etc.
We are entirely at your sevice and ready to answer your questions and specific rquirements.